Food Safety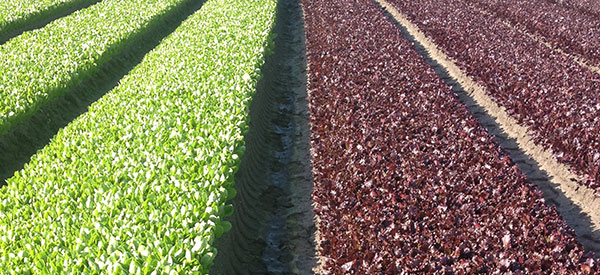 Our Food Safety Commitment
State Garden imposes the highest standards for quality, safety and sanitation at every step, from growing to processing to packing and shipping. We're committed to providing safe, fresh, high quality produce to our customers and we strive to consistently and reliably meet or exceed your expectations. 
Our Philosophy
Safe, fresh and wholesome produce begins in the field. When you purchase State Garden leafy greens, you're buying produce grown by select, qualified, American farmers, which has been pre-screened and tested before it enters our processing facilities. Here are the steps we take to ensure the quality and safety of our produce prior to leaving the farm.
Growing
The goal of our raw product supplier qualification is to ensure the safety and wholesomeness of the fresh produce we supply to consumers. This program is designed to limit any potential physical, chemical or biological hazards inherent in the growing, harvesting and post-harvest handling of raw materials. Prevention rather than corrective action is key to the success of this program.
Field Testing
The purpose of our testing program is to pre-screen leafy greens for microbiological hazards and prevent their introduction into our processing facilities. We have certified, independent, third party laboratories conduct testing on every lot of raw leafy greens for microbial pathogens prior to their receipt at our facility. Negative pathogen results must be confirmed before each lot is released to receiving.
Our Process
Bringing our produce from the fields to food markets is a detailed, comprehensive process. Our products are closely monitored during transport, inspected upon receipt, washed, dried and inspected again – all before they are packaged and deemed ready to hit the stores. Here are the steps we take to make sure you're receiving the safest, highest quality produce when you buy State Garden products. 
Transportation
Transporters of inbound produce are required to abide by and sign a Transportation Affidavit. The Transportation Affidavit ensures that transportation providers understand and adhere to State Garden's requirements for food safety and vehicle integrity (i.e. refrigeration, cleanliness, ideal loading schemes, safety and security). Refrigerated carriers are equipped with temperature recording devices, which continuously monitor and record the temperature of the product being shipped. All loads are sealed by food handling professionals at shipping point and unsealed by our Quality Assurance Receiving Team upon delivery.
Receiving
Upon receipt, our Quality Assurance technicians inspect every pallet of bulk raw material for quality, condition, temperature and potential food safety hazards. Any product that does not meet our strict standards is either diverted to animal feed or destroyed.
Processing
Our state-of-the-art leafy greens processing facility is designed to incorporate the latest technologies (e.g. optical sorters and enhanced wash systems) with the highest standard of food safety in the produce industry. We have an ongoing commitment to environmental sampling and bioluminescent testing.
Finished Product
Finished products are packed fresh daily to fill orders for our customers.  All finished product storage areas must maintain an intact cold chain. Access to storage areas is limited to authorized personnel and all doors are secured unless in use. All storage areas and access points are monitored with surveillance equipment for safety and security purposes. All finished products are labeled and tracked through the storage and shipping processes.