Packaging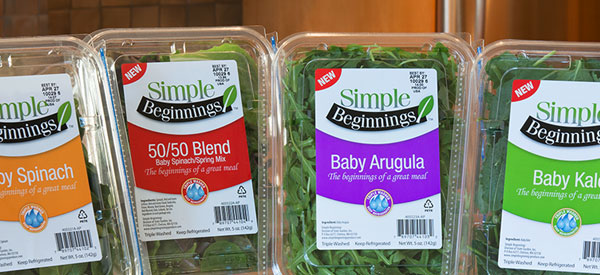 At State Garden, our quest for perfection doesn't stop with just produce. We're continually looking for new ways to improve our packaging in order to better protect our products and incorporate food safety features for our consumers.
All of our multi-serving salads are sold in sturdy, recyclable clamshell containers that protect the produce from shipment to store shelves, into shopping carts and beyond. The tamper evident packages are also re-sealable so consumers can conveniently enjoy crisp, fresh greens day after day. 
Color-Specific Labels 
It's no secret that consumers shop with their eyes – particularly in the produce section. State Garden products are quickly recognizable by their clean, colorful and easy-to-read packaging. Each of our brand's salad lines is color-specific to make it easy for repeat buyers to find their favorites week after week and for first-time buyers to quickly compare our offerings side by side. 
Traceback Coding
The numbers on the top label of each product reveal another aspect of our food safety and quality assurance process. Below the "Best By" date are unique, product-specific numbers that allow us to trace back each individual package to the farm where the greens were grown, the processing line it was packaged, to the exact time it was packed. In the event that there is a question about the quality of a specific produce package, we can know within minutes exactly where it originated from and every component involved in the shipping, processing and packaging phases.