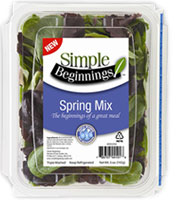 Simple Beginnings
Fresh, wholesome eating is accessible to all with Simple Beginnings. We offer a variety of high-quality, convenient products that make healthy eating simple and delicious.
Visit Site
Healthy Eating Made Simple
Simple Beginnings strives to make healthy eating easy for everyone. Products include triple washed salads, cooking greens and cut squash – items that allow consumers to make wholesome and tasty meals in a snap. All at an affordable price point.
Our Simple Stream
On our Simple Stream, consumers can find step by step cooking instructions, fresh recipes and interactive content to guide a fun and healthy lifestyle using Simple Beginnings products.
Attractive Packaging
Simple Beginnings products are quickly recognizable by their crisp, colorful and easy-to-read packaging. All products are color-specific to make it simple for repeat buyers to find their favorites week after week and for first-time buyers to quickly compare our offerings side by side.