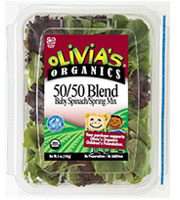 Olivia's Organics
Olivia's Organics delivers fresh, organic produce that gives back to the community with every purchase. We offer a variety of high-quality items that make healthy eating fun and delicious.
Visit Site
Eat Healthy, Give Back
Olivia's Organics is committed to providing the freshest and very best organic produce. From salad mixes to baby kale, cooking greens and more, Olivia's nutrient packed offerings are a great tasting way to feed the entire family. With every Olivia's Organics purchase, a percentage of our proceeds go directly to the Olivia's Organics Children's Foundation, which invests in opportunities and programs for children who live in the communities where Olivia's Organics products are sold.
Green Philosophies
All produce is grown, harvested and packaged with a concern for people and the planet. Every item is grown by certified organic American farmers who employ earth-friendly farming methods and support renewable resources. Produce is sold in 100% recyclable packaging that's BPA free and made from PETE.
Attractive Packaging
Olivia's Organics products are quickly recognizable by their crisp, colorful and easy-to-read packaging. All products are color-specific to make it simple for repeat buyers to find their favorites week after week and for first-time buyers to quickly compare our offerings side by side.